This conference will highlight the resiliency in organizations, families, and communities in response to changing times, and will feature evidence-informed/evidence-based programs and practices and related policies and tools that lead to the successful implementation of practices, services, and programs which result in improved outcomes for children, youth, and families. The conference will be held on April 26-29, 2018 at the Hyatt Regency Capitol Hill, Washington, DC.
This conference featured evidence-informed/based programs and practices, and related policies and tools that lead to successful implementation of practices, services and programs, resulting in improved outcomes for children, youth and families—and that are most likely to generate positive attention in the public policy context. The conference was held on March 29-31, 2017.
This conference focused on efforts to enhance cross-system collaboration for the benefit of children and families affected by Substance Use. The conference granted the opportunity to discuss and disseminate important information on trends in policy and practice in this field. The conference was held on August 1-3, 2016 at the Hyatt Regency, Orange County, California.
CWLA members and partners joined us in Washington, DC to advocate on Capitol Hill for America's children. The National Advocacy Summit was an opportunity to tell Congress that we need NEW investments in children and families to prevent child abuse, provide quality care, and ensure permanency and safety for all children. The summit was held on April 18-20, 2016 at the Hilton Garden Inn Washington, DC/U.S. Capitol.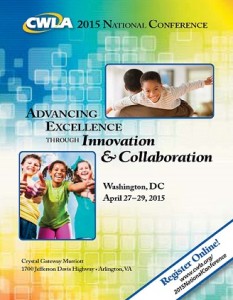 This conference was an extraordinary opportunity to learn from featured evidence-informed/based practices and real world solutions that demonstrate successful thinking in support of children, youth and families. Conference highlights included Hill Day, uniquely designed roundtable sessions, stimulating plenary sessions, panel discussions, an engaging exhibit hall and Gala Dinner. This year's conference was held on April 27-29, 2015 at the Crystal Gateway Marriott, Arlington, VA.

As kinship care continues to be a primary and valuable option for children who cannot live with their parents, emphasis on kinship care policy, practice, and research is necessary to continue to enhance services and supports for kinship caregivers and families. This conference highlighted our collective knowledge of best practice, policy, program and service development, and identified areas for further research. The conference was held on September 17-19, 2014 at the Royal Sonesta Hotel in New Orleans, LA.
CWLA hosts national conferences and events which focus on a broad range of topics, and give member agencies' staff and boards, as well as others in the field, a chance to network with their peers and continue their professional development.
 CONTINUING EDUCATION UNITS (CEUs)
CEU credits are available for all CWLA conferences and training events.  See individual event announcements for number of credits available.
 SPONSORSHIP, ADVERTISING AND EXHIBITS
CWLA conferences offer a great opportunity to get visibility for your organization among volunteers and employees from hundreds of child welfare and other child and family serving organizations. Organizations that sponsor, advertise or exhibit at CWLA conferences recognize the benefit of working with a national organization that reaches every state and nearly every community. For additional information, please visit MARKETING OPPORTUNITIES or peruse specific event details for specialized offerings.
 AWARDS
CWLA conferences include annual award presentations to recognize individuals, organizations, and corporations for their exceptional commitment to and extraordinary efforts in behalf of children and families who are vulnerable.  View our awards and past winners at CWLA AWARDS.